Therapists that make a difference
We're a passionate, collaborative and forward-thinking team of therapists, with one thing in common – the desire to make a positive difference to people's lives.
Video Transcript
The way I describe it to people is that most therapists got into what's known as the "helping professions" because they want to help people. They want to make a positive difference in their lives. At its core, that's what Kern is all about. And we do that by creating and developing the best therapy team possible. See, I believe that better people make better therapists. And engaged therapists get better outcomes. By recreating the therapist's experience in health. We can attract and retain the best therapists.
We can keep you engaged, you get better outcomes. And then we have the confidence to invest behind you in your growth and development. And collectively as a team, the impact we have and the positive difference we make in the lives of the people that we work with gets greater. And that's something that I think is pretty special and something that we're pretty proud of. 
I'm really passionate about high-performing teams. At Kern, our vision and purpose are to make a difference in people's lives and that can be achieved by getting the right people.
We place just as much emphasis on our employee experience as we do on our client experience. We want a team to come to work in an environment where they feel safe, supported, and rewarded for their efforts. Through our coaching and development framework, you will have the opportunity for genuine career progression and diversity. We take an individualised approach to support you towards achieving your goals. What drew me to Kern was it was evident I was coming to work with a group of people who shared my values of respect, integrity, and compassion.
It is great to be part of a team who all share the same vision to make a difference.
We'll never stop asking ourselves, is there a different way to get a better result? Can we do better? Can we be better? I think there's a lot more potential from the passionate, driven therapists that we work with and the results that we can get for the clients that we support. If you're here, if you've been asked to join the canteen, it's because you care. It's because you care about the people that you work with, the part you have to play in the team being part of something bigger than yourself, and the difference that you can make.
Yes, you need to be adaptable and flexible as we continue to evolve. But  We have a lot of fun. We intentionally go about creating an enjoyable workplace. We put a lot of time and effort into that. Not only because that's the sort of place where I want to work, but that's where the best learning happens. That's where the best teamwork happens. That's where the best outcomes come from. So collectively as a team, we enjoy coming to work and making a difference each day.
To be honest, my secret wish is to change your expectation of what a therapy career is, to my experience, that can sometimes be limited, but it doesn't need to be considering the talent, the passion, and the drive of the people in this sector. We can bring that together and really build and support a great therapy team. The difference that we can make in people's lives will become the benchmark for what they expect in therapy. To succeed in doing that, we want to find the best therapies.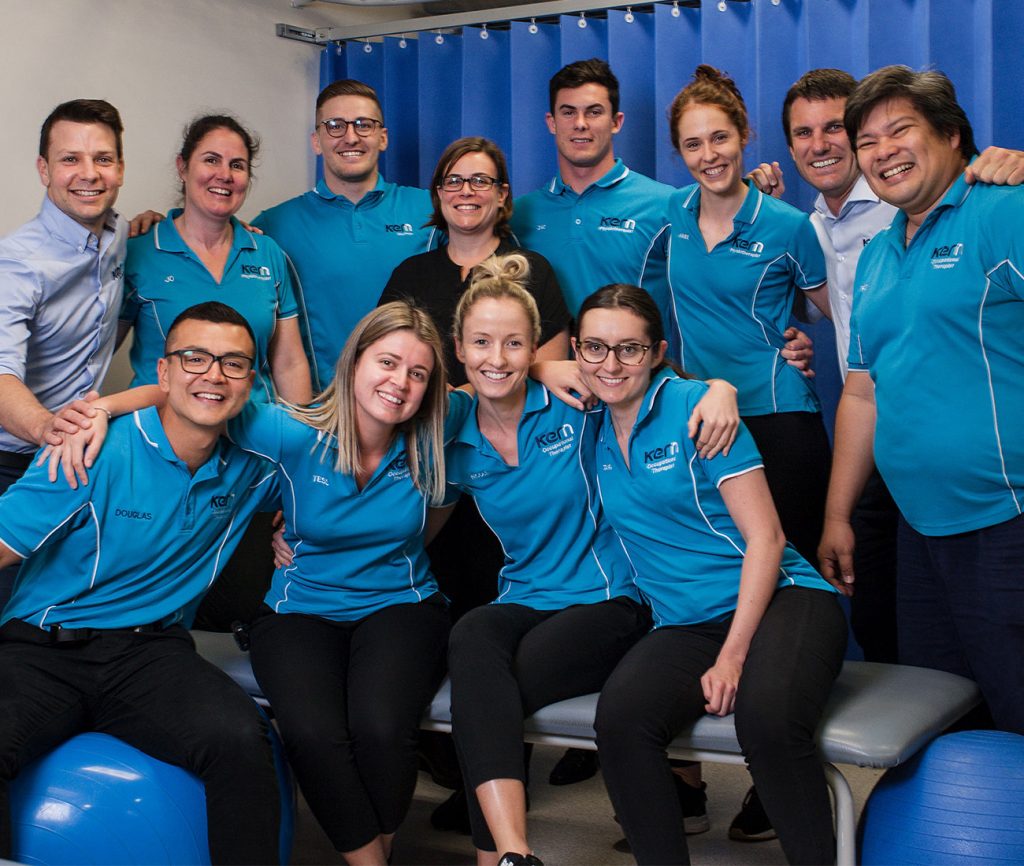 Current career opportunities for therapists
We aim to raise the bar for what people will expect from their therapy service provider by developing different and better ways of delivering therapy. Find out about the exciting career opportunities available at Kern below:
Don't see your discipline or job role above? Get in touch with us on 1300 122 155 to see what roles we may have available soon.
Strong values-based culture
Fun, supportive environment
Career progression and diversity
Coaching and development framework
Want to work at Kern?
Don't see your role above, but want to join the team? Express your interest below.