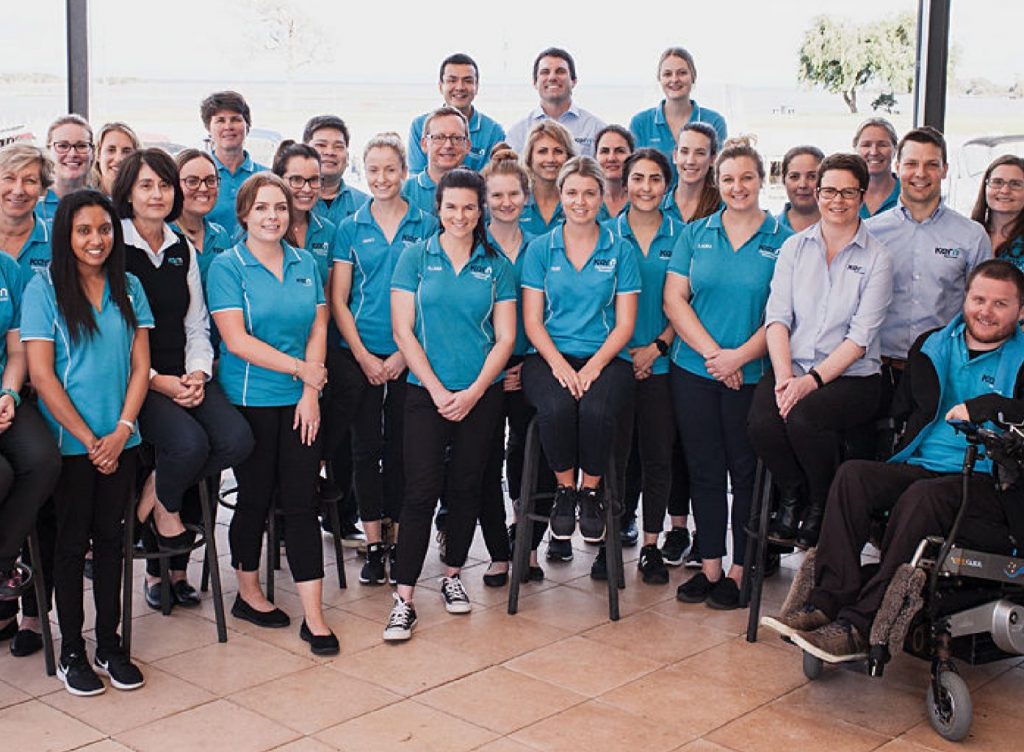 It was a privilege, in Kern Health's 10th year, for founder and MD Mark Kerns, to receive a winning place in WA's official 40 Under 40 line up for achievement in business.
Run by Business News WA, the awards night showcases 40 WA business leaders under 40 years of age. The publication is a great way to keep abreast of developments in the business world in Perth, and WA wide. The calibre and diversity of the entrepreneurship showcased, always keeps the event interesting.
Mark reflects on the significance of this award, as an opportunity to reflect on and celebrate the successes of the whole Kern team:
The submission process itself was worthwhile and rewarding. I would recommend any business owner to take the opportunity to submit for this award, if nominated. It is a good incentive to prioritise a deep dive review of your own company. It is easy to get carried away with the day to day running of a business. So an award nomination is a good reason to take some time to reflect on the broader journey and the factors that contributed to getting the business to where it is today.
The nomination process asks for specific success indicators for your business. In a review of Kern, we realised that in 10 years of providing quality outsource services to 4 separate sectors; aged care, hospital, community and occupational health, Kern has enjoyed 100% client retention. At the same time, we have grown at a rate of 34% year on year. This is a testament to our commitment to quality service, genuine person-centred care, and a focus trained on the specific outcomes of our clients.
The award acknowledges success in terms of both economic growth and social contribution. It is very inspirational to see a showcase of outstanding business acumen, but also generosity and dedication to society and community. Of course, for me personally, it is always interesting to read about healthcare professionals and entrepreneurs, in particular. I was especially blown away by First Among Equals 2015, Dr Angus Turner, founder of Outback Vision. Turner's specialist eye clinics aim to prevent or treat 94% of blindness and vision loss, in indigenous communities in remote or regional WA.
It was a real treat to celebrate the award at the gala presentation with my wife and parents. It meant as much, if not more, to my parents, who have always been a great source of support and inspiration. My Dad won a Telstra business award in the 1990's for his company Compac. From a small concern, Dad built the business into WA's largest signwriting and screen printing company. Mum was a registered nurse who somehow always managed her work commitments as well as raising 4 very active kids. I suppose I owe the impetus to bring together effective healthcare practices alongside good business systems and processes, to my parent's partnership.
In terms of partnerships, I have to take this opportunity to say how much it meant to me to share the awards night with my wonderful wife, Steph. Steph is a physiotherapist and built and sold 2 highly successful practices of her own, before dedicating most of her time to raising our children. Every small business founder knows the importance of a great support crew. Steph's a great sounding board and always offers an insightful angle on every fresh business challenge that follows me home.
Whether it's industry specific or business achievement generally, awards can be a great way to consolidate your story, capabilities and priorities. As a team leader, building and maintaining a high performing team culture is a large part of what I do. I am always looking for indicators of success to help me to select therapists not only with the right credentials but with an attitude, and personality, that aligns with our company values.
The 40 Under 40 award is about recognition. Recognition is also an important core value for us at Kern. We encourage a culture of sharing ideas, responsibility and credit. We have a Golden Monkey Award presentation once a quarter. The award goes to an employee nominated for 'taking the monkey off of someone else's back'. It is a light hearted but poignant way to recognise commitment, initiative and teamwork.
The Business News award, 2016, was a great honour for myself, my family, but above all my team. The dedication, enthusiasm and professionalism, which each member demonstrates, daily and without fail, has made Kern Health the thriving and growing company that it is.