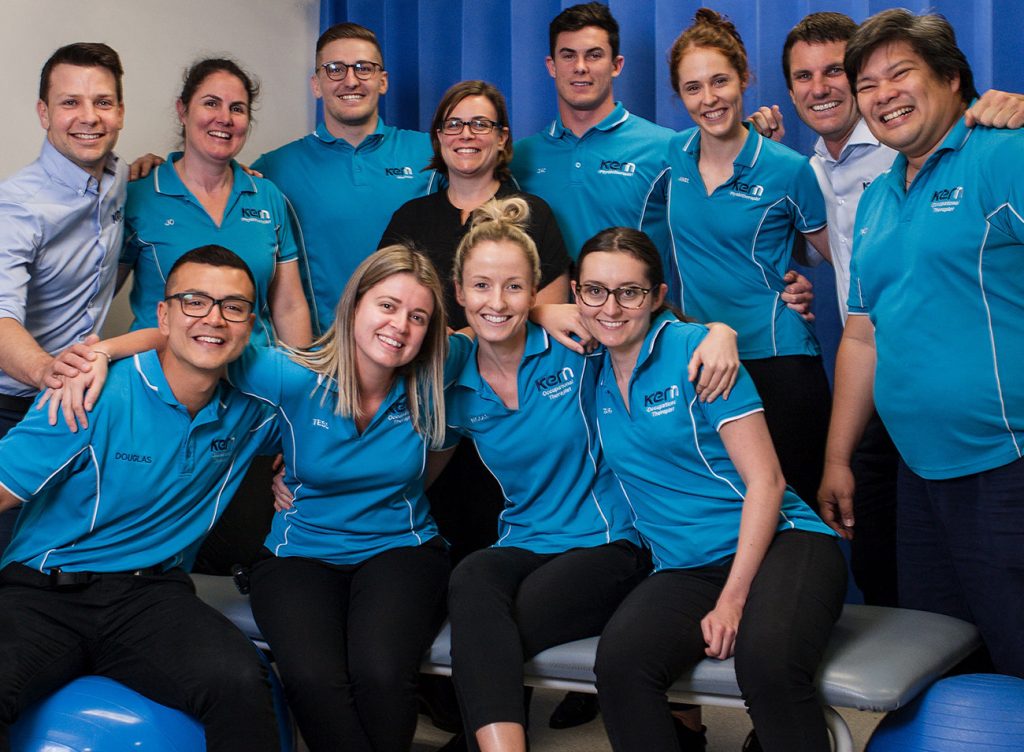 If you are unsure of what exactly an occupational therapist does, you're not alone. One of the most common questions our therapists get asked is "What is an occupational therapist?"
Do they provide therapy at work? Are they similar to a physiotherapist? How can they help someone with a disability?
How do occupational therapists help people with disabilities?
Occupational therapy is not only a broad title, it's an extremely broad profession and can be used across countless areas in a person's life. This makes it difficult to pinpoint exactly what they do and how they can help.
To put it as succinctly as possible, occupational therapy is a person-centred allied health profession that supports individuals to participate in everyday meaningful activities or "occupations" that promote their overall health, wellbeing, and inclusivity.
These occupations can include simple or complex daily activities that many individuals taken for granted, like looking after one's self, looking after someone else, working, volunteering, or participating in leisure, social or cultural events. Occupations simply encompass any activity that brings meaning to one's life, allowing us to be who we are and engage and interact in the tasks of our choice.
Kern offers NDIS occupational therapy services in Perth, with locations in Mandurah and Applecross, for both adults and children.
The role of occupational therapists
That is why occupational therapists have such a crucial role to play in the life of individuals with disabilities. Advocating for independence, inclusivity and diversity for a population who are often marginalised and isolated. They are a support person who understands what it is you want to do, and they make it happen. Katie Goble, Kern Health Senior Occupational Therapist, describes her job as:
"A lot of problem solving and working with my clients to find the best solutions. This happens through lots of discussions to find out exactly what a person wants and needs and then exploring what options there are. We then trial different options until we find the right piece of equipment or best strategy to make life a bit easier for them. My role is to then apply for this equipment and justify why it is reasonable and necessary for NDIS (National Disability Insurance Scheme) to fund this solution."  
Specifically, for children with disabilities, occupational therapy can encourage emotional regulation and participation in many areas of their daily life.
Occupational therapists work closely with children and their parents or carers to foster the child's own personal independence with daily tasks such as feeding, dressing, and toileting as well as encouraging more complex activities such as building relationships or cooking and cleaning.
When it comes to a child's occupations, it is the role of the occupational therapist to detect any limitations to the child's sensory, motor or emotional function which may be impeding on their ability to perform a task, as well as identify any equipment needs that will assist them with the activity. 
Occupational therapy is incredibly beneficial to those faced with restrictions in their daily life. Not only do our clients have some wonderful success stories following the support and intervention that our occupational therapists provide,  but its these very success stories and the relationships that are built along the way, that drives our passionate therapists to continue to be the very best therapist they can be. Katie Goble, Kern Health Senior Occupational Therapist, says:
"The best part of my job is the connections with my clients and helping them to achieve their goals. When I get to see the positive outcomes of the interventions and see how this can increase someone's independence and quality of life it is so rewarding."
If you want to know more about how occupational therapy can assist you or your loved one, contact Kern Health on 1300 122 155 or email us at info@kernhealth.com.au.
Written by Jessica Audino, Kern Allied Health
References
About Occupational Therapy. (2020). Retrieved from http://aboutoccupationaltherapy.com.au
Houtrow, A., Murphy, N., & Council on Children with Disabilities. (2019). Prescribing Physical, Occupational, and Speech Therapy Services for Children With Disabilities. Pediatrics, 143(4). https://doi.org/10.1542/peds.2019-0285Novak, I., & Honan, I. (2019). Effectiveness of paediatric occupational therapy for children with disabilities: A systematic review. Australian Occupational Therapy Journal, 66(3). https://doi.org/10.1111/1440-1630.12573